Petanque
Pétanque is a Bocce-like game that is fun-loving, raucous and peasant-inspired with large doses of heckling the opposing team. This winner-take-all game includes bragging rights and the losing team furnishes Veuve Clicquot champagne. Below I will show you our discovery of this game and how it often relates to financial literacy.
Petanque Discovery Through Translation
It started like this: Johnathan (my son in law) and our daughter, Ali, had been enjoying breakfast on the 2nd floor balcony of our charming condo overlooking Seaside's Ruskin Place. Seeing a noisy game he'd never seen before taking place on the lawn down below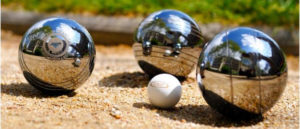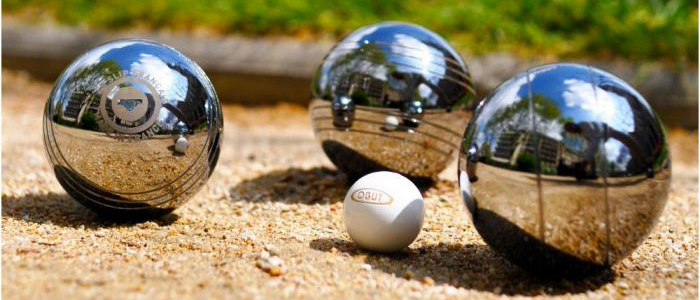 , my curious son-in-law shot out of the condo and ambled up to the players. "What are y'all playing?" he asked. Startled over the distraction, the team's spokesman replied, "Si vous pouvez dire mon nom je vais vous apprendre à jouer à ce jeu*." Which means "If you can say my name, I'll teach you to play this game". The players returned to their play and Johnathan to our balcony. With Ali's help, he cracked the code (this was before Google's Translate button), and within moments, he, Justin and I were outside, delightedly tossing boules in the courtyard just like we knew what we were doing. The rowdies joined us and challenged us to a match. We lost 15-2 but had so much fun we played every day throughout the week, showed dramatic improvement and even signed up for the Seaside Bastille Day Pétanque tournament. We competed against thirty other teams consisting of seasoned "regulars." In one of the more exhilarating experiences Johnathan, Justin and I've had, we placed second! Through the gift of my son-in-law's translation effort, three generations of Smith/North family still enjoy playing Pétanque sixteen years later; we even built a court in our yard!
Financial Industry Lost in Translation
The financial industry is in serious need of translation efforts similar to Johnathan's effort above. On February 23, 2015, President Obama proposed a major overhaul to the financial markets and terms used to describe advisors. Obama stated, "Today, I'm calling on the Department of Labor to update the rules and requirements that retirement advisors put the best interests of their clients above their own financial interests," the president said. "It's a very simple principle: You want to give financial advice, you've got to put your client's interests first." These rules are temporarily sidelined while the Labor Department conducts an economic impact assessment. Seeing our governing bodies take steps towards a better world of financial advice is encouraging, however, there are still plenty of "foreign words" in need of translation.
Daisy Maxey of the Wall Street Journal goes into some of those key words to help you translate what a financial advisor is saying and I highly encourage reading her article, Of Fiduciaries and Conflicted Advice: A Guide to Terminology, which recently appeared in the Wall Street Journal. Until Google invents a translate button that works on every financial services web page, sales brochure and meeting, this Guide to Terminology will have to do.